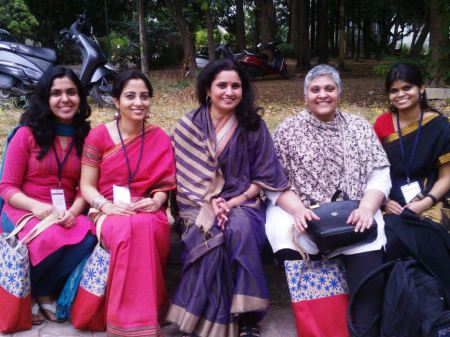 Indian Journal of Medical Ethics (IJME) organized 5th National Bioethics Conference in Bangalore. The event was co-hosted and organized by SOCHARA, St. John's National Academy of Health Sciences, Society for Community Health Awareness, Research and Action, and The Forum for Medical Ethics Society (FMES), Mumbai.
Theme of 5th National Bioethics Conference:
After much deliberation with individuals and organizations in India and abroad, it was identified that the subject of corruption in health care and research practices was an important issue and should be the theme of fifth national bioethics conference. In accordance with the theme of the event, Sama presented 5 papers in the parallel sessions of the event and 2 plenaries.
Presentations:
The event commenced on Wedneday, 10th December 2014 with pre-conference colloquium. During this event Sama spoke on the theme of "Ethical Perspective on Gender in Health". On Thursday, 11th December 2014, 2 papers were presented on the theme "Ethics and Reproductive Health". The first paper was presented by Ms. Sarojini NB titled "Dying to give birth: The case of Yuma Sherpa and the Unethical Medical Terrain of Assisted Reproductive Technologies". On the issues of corruption in health care and research Ms. Sarojini NB and Mr. Vaibhao presented a paper on "Corruption in the Practices of Central Drugs Standard Control Organization (CDSCO)": Findings from 59th Parliamentary Standing Committee Report on Functioning of CODSCO (May 2012).
On Friday, 12th December 2014, plenary was addressed by Ms. N.B. Sarojini on "Integrity in access to public health services with a specific focus on gender and reproductive health". Sama also presented two papers on 'Ethics and Gender'. The first paper was presented by Ms. Deepa V. and Ms. Nazia Hassan on "Interrogating Health Care Response to Gender Based violence: Implication for Health Care Integrity". Second paper was presented by Ms. Sunita Chowdhury and Ms. Simran Sawhney on "Enhancing Adolescent Sexual and Reproductive Health and Rights (SRHR) through Health Systems Engagement".
On the last day of the event, Saturday 13th December 2014, Ms. Sarojini NB presented a testimony on the unethical practices in clinical trials particularly in the context of HPV vaccines.
For details on the programmes, please visit the following website: